Africa Medicaid Program is a signature project designed to expand access to care, education, monitoring and refills to poor adults in rural areas of developing countries suffering from hypertension, diabetes or both at no cost. The project was launched in 2014 with the opening of a Care Center at Amagbo Ihitte, Health Center, Mbaise, Imo State, Eastern Nigeria.
The Mission: Africa Medicaid Program is committed to reducing/eradicating premature deaths resulting from manageable chronic diseases like diabetes and hypertension. The Vision: To improve health outcomes for the poor through targeted interventions. Target Population: Sick and poor adults suffering from Hypertension and Diabetes.
Why Africa Medicaid Program: The prevalence of chronic diseases like diabetes, and hypertension with their attendant complications like stroke and heart attacks, lead to premature deaths of people, especially the poor. Millions of poor sick individuals in Africa do not have enough money to sustain long term medication needs for these illnesses. Mortality rates are therefore understandably significantly higher among poor sick patients. It is a well-known fact that chronic health problems are costly to maintain and support, especially for the poor. There is therefore a great need for programs that specifically target this population to fill this gap and to assist poor patients for continuous refills, as well as to keep an accurate record of progress.
The Goals 1. To identify and qualify poor sick patients suffering from High blood pressure and diabetes. 2. To provide education regarding diabetes and hypertension, and ensure constant refill of needed prescription medication needed by qualified poor sick patients; 3. To sustain the medication needs of qualified patients for life at no cost; 4. To gradually expand the program to cover other geographical locations as well as identify other prevalent chronic illnesses and include more poor patient
Expected Outcomes/Results: 1. Poor individuals suffering from high blood pressure and diabetes will no longer die prematurely just because they could not afford needed medications. They can therefore have improved health outcomes and thus enjoy better quality of life. In turn, they will become more productive citizens who can fully participate in the local economic system and help sustain the local economy. 2. The rate of mortality caused by these two prevalent illnesses will drop dramatically because patients can remain on their medications as long as possible. We are meeting our goals and are poised to do more. Join us or make a donation to provide more access to healthcare for the poor in your community.
Our Achievements since 2014: We now have four Care Centers at Amagbo, Eziagbogu, Eziudo 1 and Onicha Health Centers. These centers provide care, education, monitoring and refills for 285 poor adults free of charge. We have dedicated Care staff, led by Oluchi Nwokoro, Head of Department, Ezinihitte Local Government Council, testing and monitoring equipment and medications provided by United States based mission organization including MAP International. Our impact survey shows that more that 75% of the beneficiaries believe that the program is helping make a difference in their lives. More than 85% agree that they are saving money, becoming healthier and do not need to sale family property to pay for care. To support and sustain this project, please make a donation today!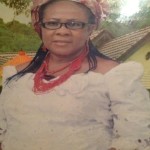 Oluchi Nwokoro, Volunteer Supervisor, Africa Medicaid Program